Nov 21, 2018
Cordial invitation to join Musha Seminar in NYC (Jan.7, 2019)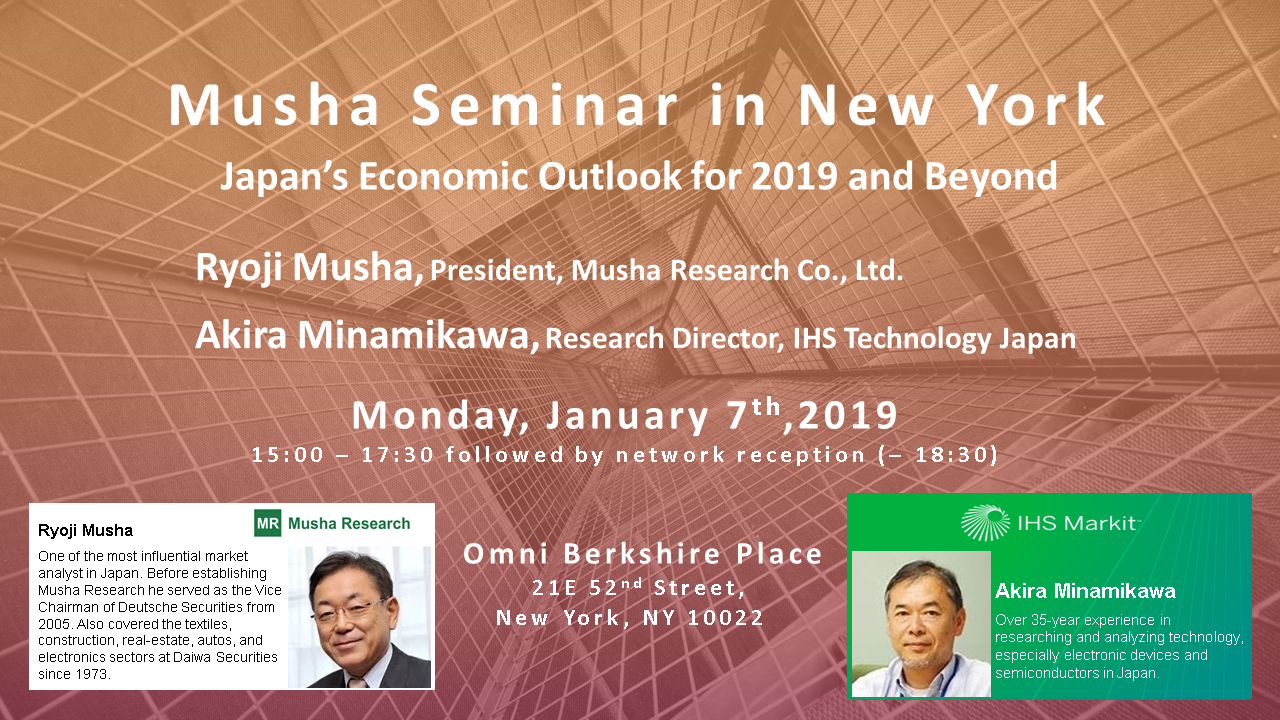 We cordially invite you to join Musha Seminar in NY in New York City:

For more information/application, please send an e-mail to info@musha.co.jp
Please include your name, company name, contact phone # and e-mail address in your application e-mail.
--------------------------------------------------------------------------------------------------------------------
Why will Japanese equity outperform in 2019 and beyond?
After years of difficult time with strong yen, deflation, trade friction with US, Japanese companies have created excellent advanced business model. Earnings power of Japanese companies has improved dramatically. How did it happen and is it sustainable?
It seems clear that Japanese prolonged deflation is ending but BoJ's ultra-easy monetary policy remains unchanged. That makes Japanese equities cheaper and more attractive.
Ryoji Musha will focus on Japan Macro and examine Japan's secular comeback and how attractive to invest in Japan for coming years.
The points covered in his presentation will be:
・Neo-industrial revolution and its impact on the stock market
・Geopolitical confrontation in Asia and the outcome of US vs. China trade war;
 - Why Japan will be the beneficiary
・Big money shift from fixed income to equity, Nikkei will be reaching 100,000 in the next 15 years
Akira Minamikawa will focus on the expected technology development in Japan under IoT era.
The points covered in his presentation will be are:
・Key issues of technology, from PCs and Smartphones to IoT
・How US-China trade war affects IoT Technology
・Competitive advantage analysis; - Why Japanese cooperation will be the winner?
Musha Seminar Series has huge success in Japan and we encourage you to join us to uncover the investing opportunities in Japan!
We look forward to seeing you at Musha Seminar in New York!
Speaker Biographies
Ryoji Musha
President of Musha Research Co., Ltd.
Advisor, Deutsche Securities Inc.
Advisor,Deutsche Bank AG Tokyo Branch
Ryoji Musha established Musha Research Co., Ltd. In 2009. Previously, he served as the Vice Chairman of Deutsche Securities from 2005 where he joined the Research Department of the firm as the General Manager and Chief Strategist in1997. He had been the Chief Analyst and Research Director of Daiwa Institute Research of America. He also worked for Daiwa Securities Co. as a Sector Analyst for the textiles, construction, real-estate, autos, and electronics sectors. He joined the firm in 1973 following his graduation from Yokohama National University with a major in Economics.
Akira Minamikawa
IHS Technology Japan Research Director
IHS Markit
Akira Minamikawa established Data Garage in 2004, which was acquired by iSuppli in 2006 and IHS in 2010 (then merged with Markit in 2016). Prior to this, he worked as senior analyst and research head for CLSA Securities (03-04) and WestLB Securities (00-03). Also he worked for IDC Japan (96-00) and Gartner Japan Dataquest (90-95) as semiconductor analyst and Motorola HK (82-90) as marketing specialist. He graduated from Musashi Institute of Technology, electrical engineering department. Main analyst for JEITA world electronics and semiconductor forecast committee since 1997, regular speaker of JEITA, SEMI, Semiconductor Industry News and Nikkei Electronics in Japan and Taiwan.