Jan 21, 2021
Strategy Bulletin Vol.271
Semiconductor shortage may be a sign of Japan's high-tech revival

(1) Stock market focus is on semiconductors
Semiconductors will lead the stock market rally
Until early autumn of 2020, the global stock market was driven by growth stocks, especially GAFA. Since the US presidential election at the end of the year, however, semiconductors have replaced GAFA as the driving force. Although semiconductors are often seen as a growth sector, they also represent economically sensitive stocks and are being bought due to a sharp rebound in demand and earnings. As shown in Figure 1, the PHLX Semiconductor Index (SOX) and semiconductor indices for the two strongest semiconductor countries (South Korea and Taiwan) are performing particularly well. Japanese stocks also performed better than those of the US and Europe. The focus of the market has clearly shifted to the manufacturing sector, which will lead the rapid economic recovery in 2021, and there is also a spotlight on Japanese stocks, although not to the same extent as South Korea and Taiwan.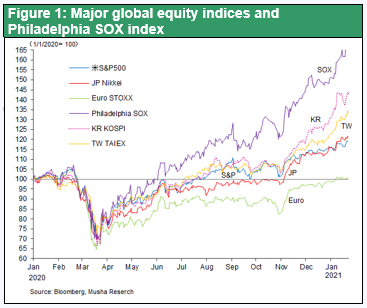 (2) Automobile production cutbacks due to a sudden shortage of semiconductors
Why was there a shortage of semiconductors for automobiles?
News broke of production cutbacks in automobiles due to a shortage of semiconductors just as COVID-19 put the brakes on the global recovery of demand. The news is that these cutbacks will be prolonged. Honda has begun to cut production in Japan, North America and China. Nissan also began cutting production in January. Toyota has cut production of pickup trucks in the US and suspended some lines in China. Overseas companies such as Volkswagen (VW) of Germany and Ford of the US are also adjusting production. Some analysts are saying that the effects of this may linger for up to six months. This is attributed to (1) manufacturers misreading the rapid recovery in demand for automobiles, and (2) semiconductor production lines are being held back for use in video games and consumer electronics. As a whole, however, the demand for electronics equipment, which underlies the demand for semiconductors, has not returned to its peak. On the other hand, the supply of semiconductors continues to grow by 5% year-on-year in 2020, so the supply-demand situation is not particularly tight.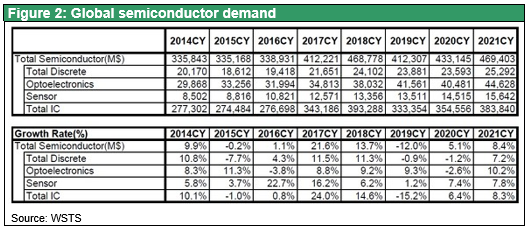 Demand for electronic devices has not yet returned to its peak, but…
Demand for automobiles and smartphones has also not returned to previous peaks. Smartphone demand peaked at 1.45 billion units in 2017, and is forecast at 1.25 billion units in 2020, below the peak. Demand is expected to reach 1.38 billion units in 2021, meaning that global smartphone demand has already entered a period of complete maturity. Automobile sales are also recovering rapidly in China, but have not yet reached their peak. In 2020, new car sales in China were 25.27 million units, down 1.9% year-on- year, the third consecutive year of falling sales. The recovery in US auto sales also slowed, with seasonally-adjusted annualized auto sales of 15.55 million units in November, down from 16.21 million units in the previous month and 17.09 million units in the same month last year.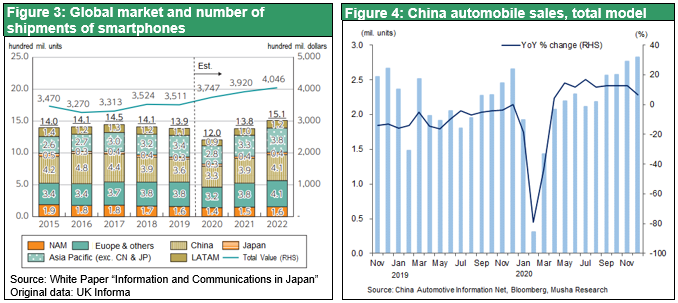 Semiconductor shortage factor (1): US semiconductor sanctions against China
What is going on? Two factors are conceivable. The first is the possibility that friction between the US and China is causing turbulence in the supply-demand balance for semiconductors. First, (1) Huawei built up a huge inventory of semiconductors before the US introduced sanctions banning semiconductor purchases, (2) competitors saw an opportunity to take market share away from Huawei and bought up semiconductors, and (3) the US administration's sanctions on SMIC have encouraged semiconductor users, conscious of the uncertainty of procuring from SMIC, to buy from other manufacturers (such as TSMC). In December, the US government placed SMIC on the Entity List, imposing a license system for shipments to SMIC and restricting its use of US semiconductor manufacturing technology. This prompted some of SMIC's customers to start thinking about switching to other semiconductor manufactures due to concerns that there would be limits on supply. Although SMIC is not producing cutting-edge devices, it has a 5% share of the global semiconductor contract manufacturing market, with sales of $3.1 billion in 2019. It has a considerable presence in the legacy semiconductor sector and the shift in demand from that sector is thought to have had a certain impact.
While this friction is said to have stimulated new demand, it is also pointed out that the construction of new semiconductor factories has stalled in China due to US sanctions against China, and there has been no increase in China's supply capacity.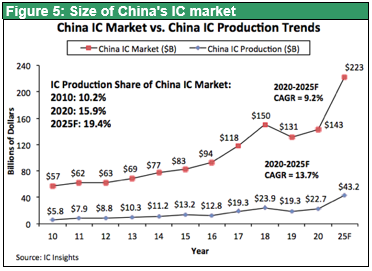 (3) Major changes in the semiconductor supply-demand structure
Semiconductor shortage factor (2): Changes in the semiconductor demand structure, from a shortage of cutting-edge products to a shortage of legacy products
The second, more fundamental reason for the sudden shortages of semiconductor is the possibility that the structure of semiconductor demand is undergoing a transition. While there are structural changes for semiconductor demand, it is possible that shortages in the supply capacity are surfacing by product. There is a possibility that there is a shortage of legacy semiconductors, such as those used in industrial and automotive applications.
The business-to-consumer (B-to-C) market for smartphones, PCs, and other electronic devices and personal internet terminals, which has been the main driver of semiconductor demand, has now come to a standstill. Instead, the main areas of new growth are for industrial, automotive, energy-related and infrastructure-related (B-to-B) applications. The main battlefield in the 5G and IoT era will be the industrial equipment field.
The semiconductors in this new growth field will not be the cutting-edge, highly integrated Memory, Micro, and Logic semiconductors of the past, but rather the older generation (legacy) semiconductors. Specifically, this refers to analog, power, opto, and sensor. This is where the current shortage of semiconductors for automotive applications lies. Demand for semiconductors increase significantly when automobiles are EVs. It is estimated (by Informa, a British research firm) that the amount of money spent on semiconductors per vehicle is $220 for gasoline vehicles, $400 for electric vehicles, $480 for HV vehicles, and $800 for Level 3 automated vehicles. Figure 9 shows the projected demand for semiconductors by processing line width and miniaturization, and the wafer demand that will increase the most in future is for 40-nanometer legacy semiconductors. These semiconductors require different characteristics such as power saving, heat resistance, and vibration resistance rather than high density and high integration. It can be said that there will be dramatic change in the business model for semiconductors.
Thus, the current shortage of semiconductors can be attributed, in part, to the inability of the supply side to respond to changes in the demand structure in the 5G and IoT era.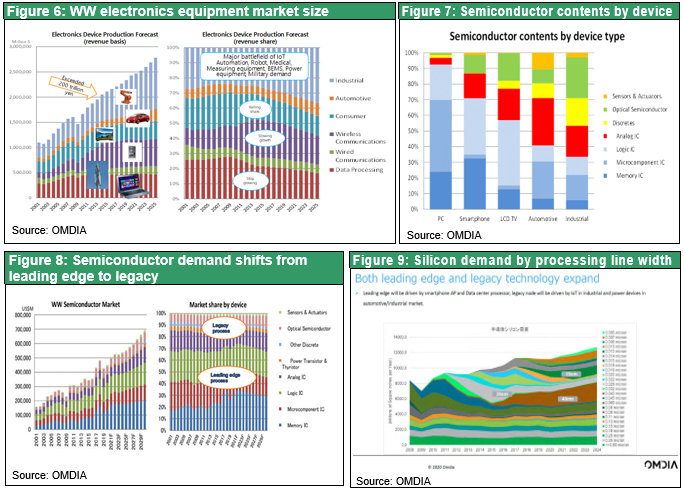 (4) New trends in semiconductor demand are advantageous for Japan
New semiconductor demand in areas where Japan is strong
The aforementioned changes in semiconductor demand and technology trends are advantageous for Japan. Japan's high-tech industry had suffered a series of defeats until around 2015, but may be entering a period of revival after the end of a decline. Until now, the leaders of the semiconductor industry have been major companies such as Samsung, Intel and TSMC that have invested large amounts of capital in cutting-edge devices to lower costs and gain market share at a rapid pace. Japanese companies were unable to compete but the playing field is changing.
(1) Legacy semiconductors include power semiconductors, sensors, optical semiconductors, and many other areas in which Japan is still competitive, giving Japan a platform for revival.
(2) Japan has specialized in unique high tech sectors and high tech supply such as components, materials and equipment. For example, Japan has a 35% share of the global market for semiconductor manufacturing equipment and a 60% share of the global market for materials. The importance of Japan's niche advanced technology will increase with the establishment of best solutions for a diverse range of customized semiconductors.
(3) Japan now has nothing to lose (it has lost the semiconductor, TV, PC, and smartphone markets).
In the area of process technology for legacy semiconductors, there may be an increase in demand for lithography equipment from companies such as Canon and Nikon. The most advanced extreme ultraviolet (EUV) lithography tools are the sole domain of ASLM of the Netherlands, which were out of bounds for Japanese manufacturers, but opportunities are coming.
Conventional semiconductor manufacturers will encounter various difficulties, like Intel, which has fallen behind in the miniaturization race. The race for miniaturization, which involves large investment, may eventually become less profitable. The value of semiconductors will become increasingly biased toward design concepts, and fabless companies will take center stage, while Apple, Amazon and others will begin to develop their own semiconductors.
Even in such an era, top-quality contract manufacturing companies like TSMC and high-tech companies specializing in high-tech hardware niches that provide a variety of supplies to them will become increasingly necessary. High performance material and components are needed to make high performance semiconductors. Japan has a treasure trove of such technologies.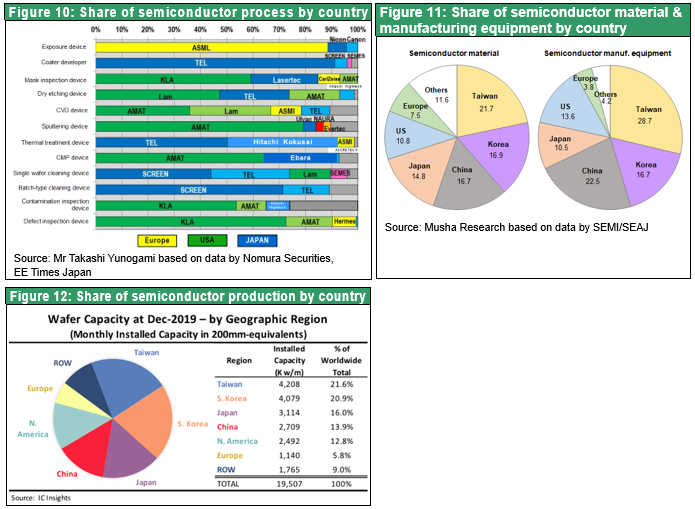 Japan's overwhelming competitiveness in high-tech supply
South Korea and Taiwan are now the two strongest semiconductor countries. As shown in Figure 12, the two countries control 42% of the world's semiconductor production, and if the production of the two countries' companies in China is taken into account, it is no exaggeration to say that the two countries control half of the world's semiconductor production. These two powerful semiconductor countries share a common trade structure. Figure 13 shows the trade balances of South Korea and Taiwan by partner country. Both countries import resources, energy, and high-tech supplies (materials, parts, and equipment), and export semiconductors and other high-tech products to China (including Hong Kong) and the US, and are recording large trade surpluses. China also imports semiconductors from Taiwan and South Korea, and exports high-tech finished products to the US and Europe.
Japan is the sole supplier of high-tech supplies to South Korea, Taiwan, and China. There has been no substantial change in this dependence by South Korea and Taiwan on Japan during the past 10 years. The trade deficit with Japan in 2019 was $19.2 billion in South Korea and $20.8 billion in Taiwan, with Japan being virtually the largest deficit partner for both countries. It can be said that Japan has built up its position as the world's strongest high-tech supply. Japan's strength in high-tech supply will be further strengthened under the new semiconductor demand structure.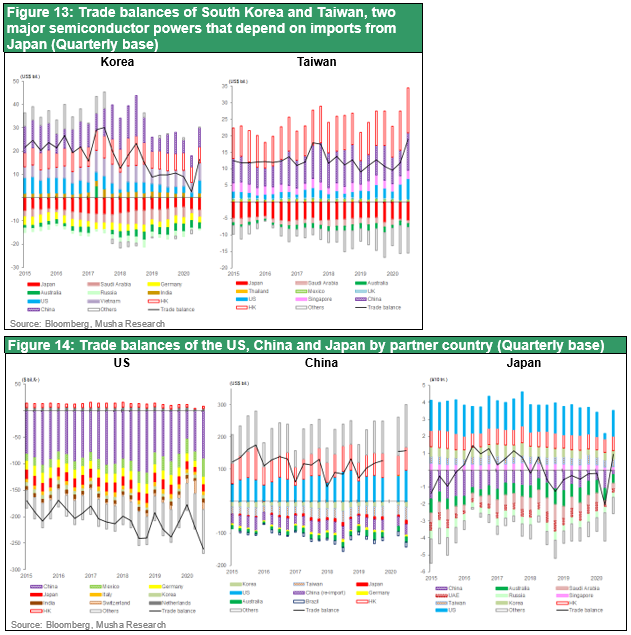 (5) New technology trends in semiconductors, More than Moore
The needs in an era that is moving away from high integration
Up to now, the core of the semiconductor technology trend has been the improvement in integration (Moore's Law), doubling in 1.5 years and quadrupling in 3 years. The miniaturization of computers and mobile phones, as well as the dramatic increase in their functionality, can all be attributed to Moore's Law. This trend is about to change dramatically. This does not mean that high integration has reached its technological limit. The miniaturization of production line width is still progressing, and with the addition of multilayer technology, high integration is still progressing. However, future demand will be focused on industrial, automotive, energy development, and infrastructure-related applications, which will require various characteristics such as power consumption, heat resistance, and vibration resistance much more than high integration.
For example, sensors convert fluctuations in physical quantities into electrical signals, but the quantities they convert, such as temperature, pressure, and motion, are analog, and they change constantly. Modern cars are equipped with hundreds of sensors to monitor everything from the fuel mixture needed for the engine to the carbon monoxide concentration inside the car. Accelerometers detect collisions and deploy airbags. Gyroscopic sensors detect displacement. This kind of diversity is a newly required characteristic.
Reconciling diverse technological elements is Japan's forte
The need to achieve more functions on fewer chips requires different types of transistors to be formed on the same chip, such as bipolar for analog, CMOS for digital, and DMOS for power supply. The manufacturing process of this is completely different from that of memory or CPUs, which comprise only digital circuits.
In addition, the need for optical devices will increase in order to achieve higher line speeds. Laser diodes and LEDs are mainly used to convert optical signals to electrical signals.
In this way, the time will come when semiconductors need to have a variety of technological elements and characteristics. The development of semiconductors that meet the needs of each individual application will be required. It appears that the era in which Japan can demonstrate its strength in high-tech production ecosystem (industrial clusters), bringing together its diverse technologies and diverse supplies, has begun.