Mar 24, 2021
Strategy Bulletin Vol.278
Japan's Prices Are Screaming
- The Root Causes and Prospects of Japan's Deflation (1)
Everything in the economy and investment activity starts with prices. Both value creation and profit are based gaining price difference by buying low (acquiring) and selling high. Price analysis is the basis of economic analysis.
In this most important aspect of price, Japan is screaming. Nikkei reporter Rei Nakafuji repeatedly notes this astonishing screaming in his book "Cheap Japan: Stagnation indicated by prices" (Nikkei Publishing Inc, March 8, 2021). The reality is that prices in Japan have now fallen to the level of emerging economies, an astonishing decline for a country that 30 years ago was the world's most expensive. Without knowing why this has happened, what should be done about it, and what will happen, there is no way to invest in Japanese stocks or for Japanese companies to formulate strategies. Musha Research expands on the theory of deflation in Japan in a series.
Japan's low prices on a par with emerging economies
Tokyo has the cheapest Disneyland in the world (8,200 yen). It is cheaper than Paris, Shanghai and Hong Kong, not to mention California (14,500 yen). A comparison of the tax-exclusive prices at Daiso, a global chain of 100-yen stores, shows that Japan's average price of 100 yen is lower than that of Thailand (210 yen), Singapore (160 yen), and China (160 yen), Brazil (150 yen) and Taiwan (180 yen), not to mention developed countries such as Australia (220 yen) and the US (160 yen). The Economist's cross-world study of the price of a Big Mac (January 2021) shows that Japan's 360 yen ($3.75) is almost half the price of Switzerland, the world's highest, lower than South Korea and Thailand, and the lowest among developed countries. The author writes that the reason for the rush of foreign tourists to pre-Corona Japan was not the hospitality, safety, and cleanliness that the Japanese had interpreted in advance, but the low price.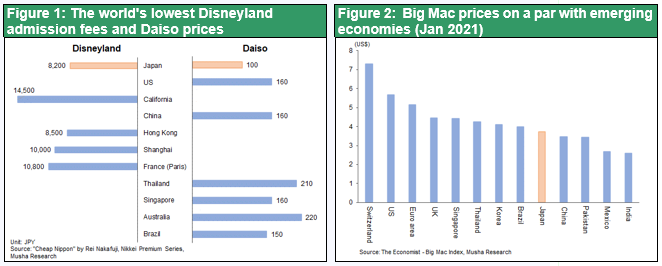 Low wages make it difficult to attract engineers, accelerating technology outflow
Japan's wages have slipped from the level of developed countries. The average annual income of 12.17 million yen in Minato Ward, Tokyo, the highest income area in Japan, is at a level classified as low income in San Francisco. Wages for high-tech engineers are far below those in the US and Europe, and even lower than those in South Korea and China, and Japanese companies continue to lose engineers. 30% of NTT's R&D personnel are shifting to companies such as GAFA by age 35. The Japanese animation industry, which once used China as a subcontractor, is now becoming a subcontractor for Chinese animation and media companies that have acquired the technology due to the low wages.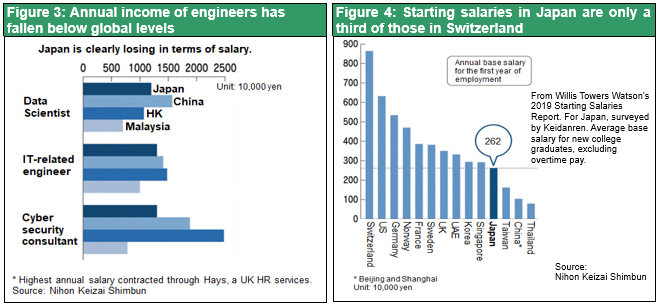 Dropping out of the technological development battlefield
Japan's low wages and low costs are causing the country to drop out of the global technology development battlefield. The reality is that Netflix's production costs are five times that of NHK (Japan Broadcasting Corporation). China's state-owned CITIC Group has acquired 14 small and medium-sized Japanese companies, and factories with the seeds of Japanese technology are being rebuilt by Asian nationals to find new sales channels. In 2010, Ogihara, a leading Japanese metal die maker, was acquired by BYD, China's top EV company, in which Warren Buffett has invested, and has been supporting BYD's rapid growth. Japan's low prices and declining purchasing power have made it impossible for Japan to keep up with international markets. Japan has been outbid by Asian countries, and its per capita consumption of seafood has plummeted and is now below that of South Korea and Indonesia.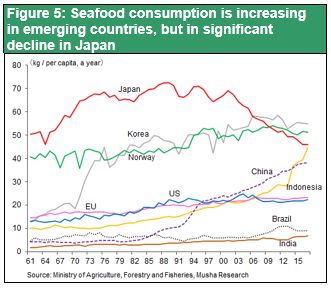 Rei Nakafuji's book, "Cheap Japan: Stagnation indicated by prices," is a report on the reality of a Japan that is about to drop out of the developed world due to falling prices.
People who simply say things such as "This is fine, this is the only way," or "It's inevitable because of the declining birthrate and aging population" are missing the point. This is because Japan's long-term deflation has fallen into an incredibly serious stage. As shown in Figure 6, Japan's nominal GDP has remained flat for 30 years. This is not fate, and we can envision a way out of it. It is time for policy makers to demonstrate their wisdom.