Sep 09, 2020
Strategy Bulletin Vol.261
Abe evaluation by "The Economist" and "Weekly Economist"
~ Mr. Buffett began to evaluate Japan while Japanese experts and media are busy with Abe criticism
(1) Whether to deny or affirm the Abe administration's Legacy
Embarrassing Japanese media and experts
The world's most influential financial magazine, "the Economist" has published a cover story "How Abe changed Japan" (September 5). It is unprecedented that the Japanese prime minister who is going to step down has been featured with such a high evaluation in such a magazine. In contrast, the Japanese magazine, "Weekly Economist" published by Mainichi Shimbun features "Verification: The Negative Legacy of Abenomics" (September 7 issue), "Abenomics is a deadly sin" (Noriko Hama), "Negative Legacy of Unprecedented Monetary Relaxation and Fiscal Expansion that Reduced the Potential Growth Rate" (Takahide Kiuchi) was published as the special stories. Abe criticism found in the Japanese Weekly Economist, which can be said as a sweeping condemnation, is no longer needed to be explained here again as it has already been known to any Japanese.
On the other hand, Musha Research believes that the high evaluation by the Economist must be known. It is completely different from that is prevalent in Japan, following in the next paragraph.
Objective and fair overseas media and intellectuals
"Many believe that Mr. Abe's sudden departure is the result of political failure, albeit official excuse is illness. Indeed, with the coronavirus pandemic, friction with China, declining birthrate and aging population, etc., it is a gloomy moment. But the government's responsiveness has grown significantly over the course of the Abe administration's eight years. The leaving prime minister Abe has accomplished far more than what is generally believed.
Prior to the coronavirus pandemic, The Abe administration's economic policy, Abenomics was successful. And Japan became a prominent player in Asia and world diplomacy after a fairly long rather silent years after the WWII. Abe has also achieved many reforms that the predecessors could not. Abenomics fell short of the 2% inflation target but ended deflation, leading to a 71-month economic expansion and a productivity improvement higher than the US. The Abe administration, appeasing the farmers, lowered the tariff to promote TPP. Reforms such as child-raising support, women's participation in society, and revision of the Immigration Control Act also made progress. The drastic improvement in corporate governance has boosted overseas investors' evaluation of Japan and has led to W Buffett's investment in Japanese stocks.
There were also mistakes such as two consumption tax hikes pushing the Japanese economy barely into recession. Gloomy warnings by many experts, such as "government debt pushing interest rates up to insolvency," or "the BOJ's negative interest rates are fatal to big banks," however, were simply wrong.
The turmoil in the Abe assessment is even more pronounced in the more successful foreign affairs. Abe, an avowed nationalist and a grandson of the regime of the former imperialist war, was worried that he could cause dangerous confrontation with China and undermine relations with its allies. Despite the concerns, however, he brought together his comrades in the Asian region and pushed back China's military and economic influence without inciting
China's anger. Strengthened military cooperation with India and Australia. He maintained a good relationship with President Xi, as well as a special contact with President Trump.
There are also issues such as population decline, women's social advancement, disparity between regular employment and temporary employment, delay in digitalization by the government, and delay in conversion to green energy. But Abe's greatest, and most unknown, achievement may have been to enhance the foundation of his successor: the administration's governance. The bureaucrats who controlled the factions and were left behind were put under the control of political entities. If the next prime minister could make any achievements, most of it could have been made possible by Mr. Abe's foundation. In Japan, this kind of objective and positive evaluation of Abe's government is the only report from the Musha research ("Post-Abe is "Abe"-historical contribution of Abe administration and Japanese political affairs" 8/31). Isn't it?
Wrong, unrealistic thoughts mislead the country
The reason why Musha Research is about this is that the right policy choices and policy performance evaluations determine the future of the country. Looking back on history, policies have largely determined the rise and fall of the country. Even with all the favorable conditions, if the policy is wrong, the country may be destroyed.
Keynes, who once fought against old economics, said: "Every economic practitioner is usually the slave of an economist of the past." Therefore, bureaucrats and politicians make mistakes because they apply the old, wrong ideas of the past. "Whether is better or worse, what is dangerous, is not vested interests, but ideas." JM Keynes, General Theory of Employment, Interest and Money
(2) Why now? Warren Buffett bought Japanese stocks
Buffett's Japanese stock buying goes against the crowd
Which is correct, the majority of Japanese media that thoroughly criticizes the Abe administration and Abenomics, or the good reputation of London's "The Economist" magazine? The decision may be made clear by Mr. Warren Buffett buying a Japanese trading companies stocks. Why are the world's largest oldest and most respected investor making bulk purchases of five Japanese major trading companies? Why that is now. If Abenomics fails, Japanese stocks, or even a leading conglomerate established company, will be incapacitated.
The WSJ newspaper reported that Buffett was against the trend of other foreign investors (9/4 "Mr. Buffett invested in Japanese stocks where foreign money was forgotten"). Foreign investors bought over 23 trillion yen of Japanese stocks from December 2012 when Mr. Abe won the election to the end of June 2015. However, since then, it has continued to sell its Japanese stocks and sold all it bought as of August , with a cumulative net sale of 860 billion yen since the inauguration of the Abe administration.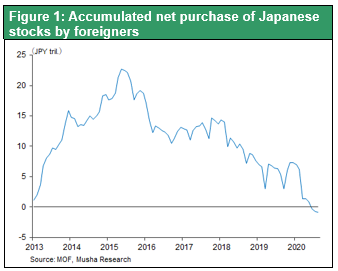 Buffett continued to pass through Japan
Mr. Buffett, who is so famous, has hardly ever been interested in Japanese stocks throughout the 1970s-1980s, when Japanese stocks were bought up by overwhelming foreign investment. His first visit to Japan was eight months after the 2011 East Japan Earthquake, when he made first Japanese investment in Tungaloy.
In August, it invested about 6 billion dollars (640 billion yen) to acquire 5% of 5 largest trading companies (market capitalization total 14 trillion yen), and announced the intention to increase to 9.9%.
There is a question "why now?" Mr. Buffett said in an unusual statement that he has high expectations for Japan's future by saying "I am delighted to have BH participate in the future of Japan and the five companies we have chosen for investment". He also said there are great opportunities for JV investment and the possibility of BH participation.
Undervalued trading companies despite having the animal spirit and established JV network all over the world
By considering these points, it is safe to say that Mr. Buffett's investment in Japanese trading companies has three elements.
(1) Typical value investment target: Cheapness = high risk premium, representing Japan. Mr. Buffett's investment funds were raised in September last year and in April this year, totaling ¥625.5 billion in yen-denominated bond issuance (the cost of borrowing was so cheap. For 10-year bonds in the average zone, with an interest rate of 0.44%, while trading companies paying dividend yielded of 4 to 6%. Looking at PER 9 to 15 times (earning yield 7 to 11%), PBR (0.6 to 0.7 times other than 1.1 times ITOCHU) valuation is extremely low.
(2) It can be the only business group that has an animal spirit and is evolving its business model among the group of chaebol-affiliated and traditional Japanese established companies. They can be a leader in reorganizing Japanese companies and a leader in reforming Japanese corporate governance as successor of the good traditions of Japanese business spirits.
(3) Leading global player. They have established networks and business bases all over the world to build JVs. It can play a key role in establishing a global supply chain (Economic Prosperity Network concept) for excluding China, which the US is currently focusing on.
Under US and China hostility, Japan's vital importance
Again why Mr. Buffett is buying Japan now? First, the valuation of Japanese stocks is at the back of the shadow. For Mr. Buffett, the valuation of US stocks became extremely high, and it became impossible to tolerate the extreme disparity with the US market, where it was difficult to find value investment targets, and Japanese market. However, the more important second factor is that the United States and China's hostility has become fierce and it has become inevitable to build a global supply chain to avoid China, and the economic resources and business models possessed by Japan and Japanese trading companies have suddenly begun to shine.
(3) Stock price revolution in Japan likely to begin
The new expected Prime Minister Suga, who is stock-friendly, has also triggered
It seems to be impatient but we cannot stop saying that the long awaited stock price revolution in Japan is now triggered. Yoshihide Suga, who is likely to become prime minister on top of the Legacy of the Abe administration, will put forth a policy of making the stock price friendly. He has been the driver of Japanese political reform. He does not belong to a faction. He will be the best person to change the vertically divided administrative system and to defeat of vested interests. He has been in charge of the economic command tower, including the Abenomics' BOJ Accord and the regularization of the tripartite meetings of the BOJ, the Ministry of Finance and the Financial Services Agency. He is already showing some motivation, such as the establishment of the Digital Agency.
With the advent of Mr. Buffett, the vital importance of Japan in the US-China confrontation era, and the birth of reform-minded Prime Minister Mr. Suga, the possibility of a massive upturn of Japanese stock price may have started.